Southern Living: 10 Closet Organization Mistakes You're Making In Your Closet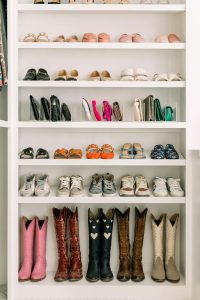 From Southern Living, "Avoid these common blunders for a cleaner, more coordinated closet.
If finding what you're looking for in your closet is an adventure in itself, you're not alone. Overflowing, disorganized closets are an all too common problem, and so are ones that have undergone a big organization effort to no avail. Starting the process of arranging your closet can be intimidating, and it's easy to make mistakes along the way. You can think yourself the owner of a highly organized closet and yet still struggle to find what you need in there.
Whether you've yet to start the process or find yourself with a seemingly-organized closet that isn't quite as functional as you intended, easy fixes can help you optimize your space. Katia Basley, founder of Vision & Hammer, a home organization and interior design studio in Houston, Texas, says that she sees this all the time. If your closet is guilty of any of these oversights, Basley has just the advice for a well-organized and practical closet. You don't need a giant walk-in to find these organizational tips helpful, either. In no time, you'll have a tidy, practical closet."
For more go to: 10 Closet Organization Mistakes You're Making In Your Closet