Monthly Recipe: Strawberry Cheesecake Tart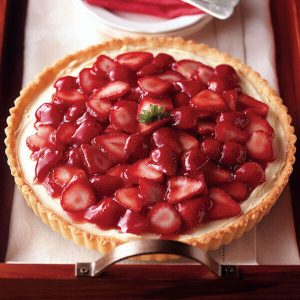 From Land O'Lakes, "It's strawberry season! Delicious, sweet, fragrant red berries are ready to enjoy. Whether you pick your own or purchase them at the farmers' market or grocery store, now is the time to indulge. Strawberries are one of my very favorite fruits. And, one of my favorite summer time treats is my mom's fresh strawberry glace pie – just strawberries and a glaze made from strawberries – yum. For some, glace pie is a little boring or plain. So why not pair strawberries with another favorite dessert, like cheesecake?
That's just what Strawberry Cheesecake Tart delivers – the best of both worlds – fresh strawberries in a light glaze served over a luscious cream cheese base in a butter cookie crust. It's simply scrumptious and beautiful too. Strawberry Cheesecake Tart makes a wonderful dessert for summer entertaining. Be sure to show your family and friends the entire tart for the "wow" effect. Then slice and serve – they may even ask for seconds.
The cheesecake portion of this dessert needs to be made ahead so it can cool and firm up in the fridge. Just before serving adorn the cheesecake with strawberries and finish with a little drizzle of melted strawberry jam – a quick and easy way to glaze. Then enjoy!"
For recipes go to:  Strawberry Cheesecake Tart
---